Chapter 3
is finally ready! Has Arisu become a woman yet? Read on and find out!
Also, Vol. 2, Chapter 4 of Tokimeki Tonight is almost finished. And while we're on the subject, is this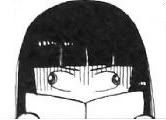 not the most disturbing thing you've ever seen? It's Ranze looking at Makabe and Kamiya. (The thing she's holding is her report card.) Creeps me out every time I see it...